'Finally Sinful Sinfonies by Jonathan Brigg… full of crazy rhythms, shakes and shimmies redolent of 1920s' jazz updated by Mark-Anthony Turnage, a selection of vaudeville characters for the ears, before becoming ghostly, a reminiscence of the night before…' Colin Anderson, Classical Source
'Jonathan Brigg's Scat-Man was an extraordinary text sound piece'
Charles Hunt, The Press
Composer, pianist and conductor Jonathan Brigg was born in Bradford in 1984, and grew up playing trombone in Wibsey Band and playing piano for local amateur operatic groups. He read music at the University of Manchester, where he studied with Kevin Malone, John Casken and Deniz Ertan, attaining a MusB with first class honours and MusM in Composition, before undertaking doctoral research at the University of York under the supervision of Bill Brooks. He has been awarded AHRC funding, the Sir Jack Lyons Research Scholarship and an Emmy Watts Bursary. Shortly after completing his PhD, he was awarded stipendiary post-doctoral research position at York.
Jon has forged an impressive career, and has been recognised for his distinctive compositional voice and his musical fluency in a number of genres. An unusual combination of influences – ranging from jazz icons Duke Ellington and Horace Silver to experimental 'classical' works by John Cage and Charles Ives – perhaps accounts for a sound that defies easy categorisation. Motivated by a desire to understand how musical languages work, and how they can often complement each other, Jon devotes much of his time to studying and transcribing the music he loves, and researching its harmonic techniques.
photo by Benjamin Ealovega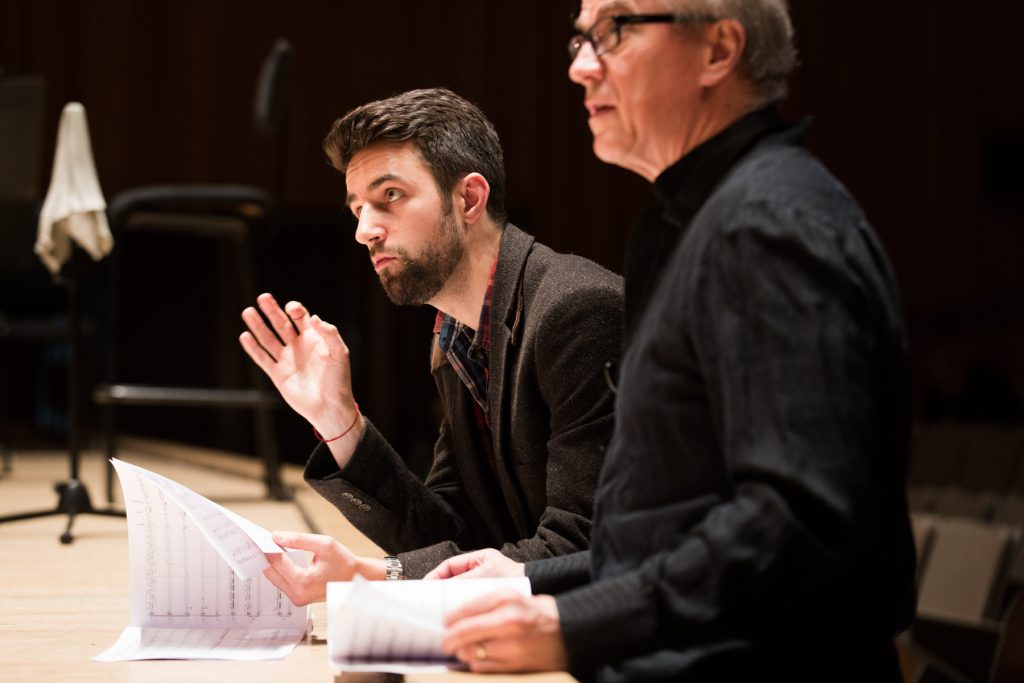 As a composer Jon has been awarded commissions and residencies with the Animato Kwartet, London Philharmonic Orchestra, Nieuw Ensemble, Orkest de Ereprijs, and was a finalist in Britten Sinfonia's OPUS scheme. He has also composed works for pianist Richard Casey, PercusSing Duo, the Chimera Ensemble, The 24, and the Niuew Ensemble.
He was a prizewinner at the Young Composers Meeting (YCM) in the Netherlands, which led to a six-week residency at the MacDowell Colony in the USA. His central preoccupation as a composer is writing music that combines jazz language with harmonic and formal ideas borrowed from classical models. To date he has recorded two albums for jazz ensemble, as well as a solo piano album; with a third jazz ensemble in the pipeline, his jazz compositions total 30 or more. Dave Sumner said of Confession, for Stoop Quintet, "There's something particularly appealing about the way the bright melodies of Stoop Quintet cast a long shadow… It has a warm presence, but there's also something a little ominous about it, too, and those dark tones add a complementary quality that makes all the difference between this being just another modern jazz session and something more special."
original cartoon by JB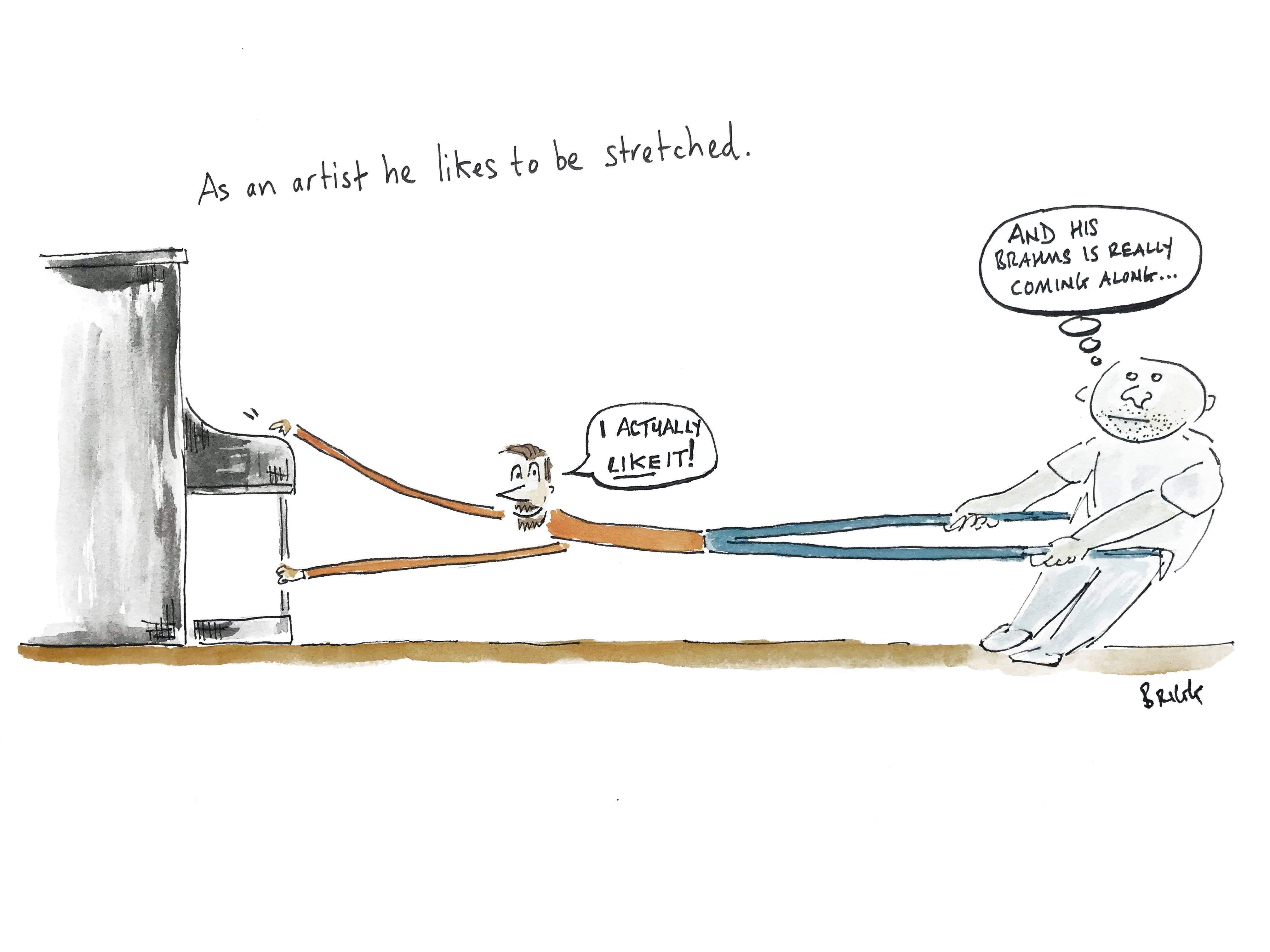 When he is not composing, Jon is in demand as a collaborative pianist, repetiteur and conductor, regularly accompanying projects by ENO Baylis and Streetwise Opera, as well as a number of leisure-time groups. He was recently engaged as a pianist and musical assistant by renowned composer Mark-Anthony Turnage.
photo by Benjamin Ealovega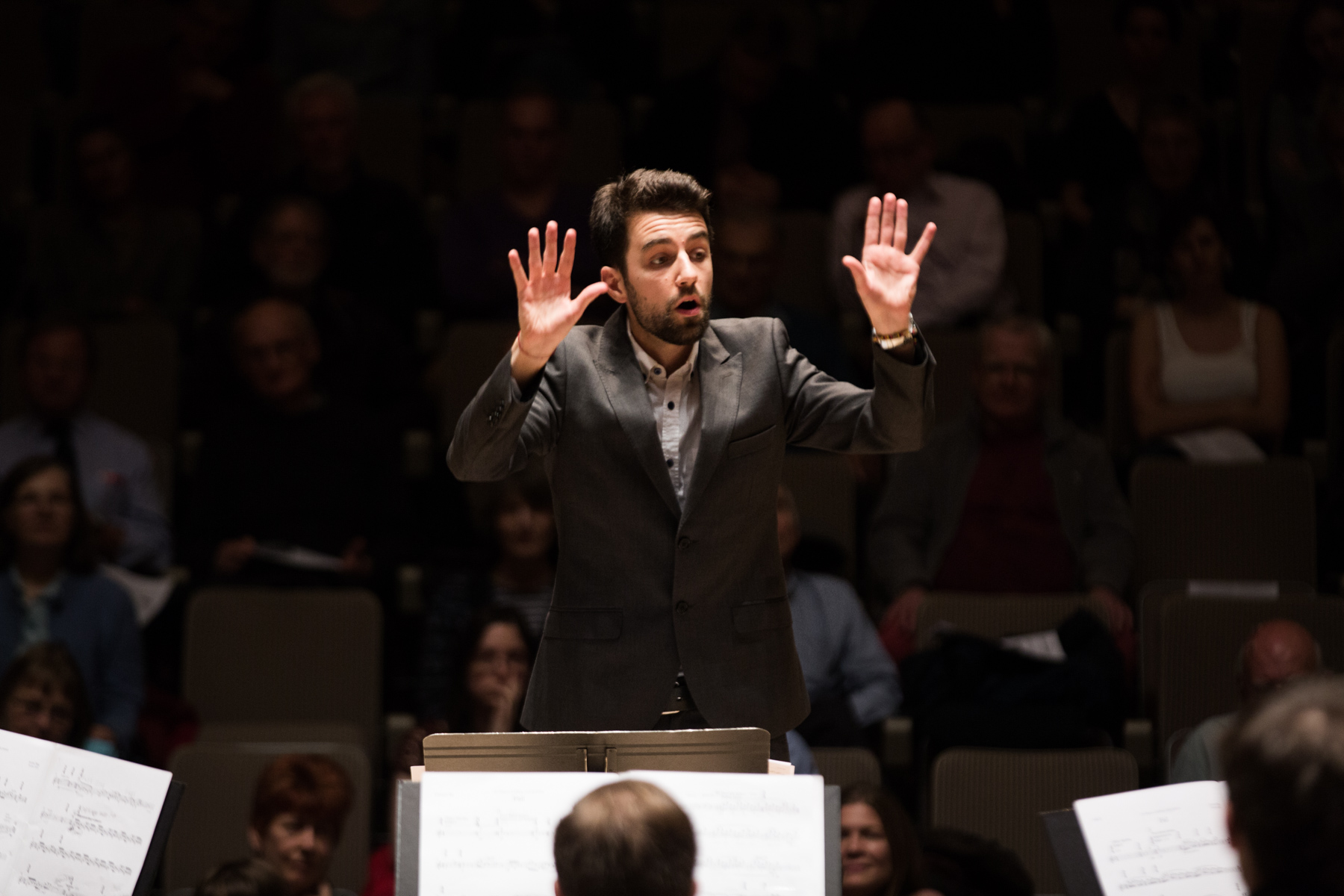 An experienced conductor, Jon was trained as a Junior Fellow in Conducting with Huddersfield Choral Society, and was an assistant director of The 24 at the University of York. He specialises in conducting contemporary choral works, and was recently engaged to conduct the choral set-pieces on Stef Conner's Riddle Songs, which was voted in the Top 100 albums of the year by Presto Classical.